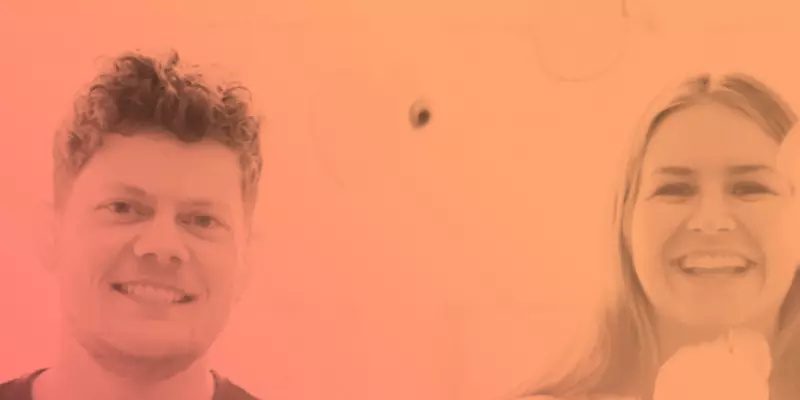 Quality UX design is grounded in solid user research
Duckwise is a Danish design agency specializing in user-centric digital experiences. Their work varies from public to private sector and include apps that touch the lives of millions of people. To name a few, the DSB and NemID app are some of their newest mentionable solutions. We sat down with UX designer Kristian Schnedler Jørgensen and Anne Lundov to discuss their background, their approach to UX, and how Preely has transformed the way, they work with user testing. The UX team at Duckwise are Preely enthusiasts, and utilizes the tool to ensure that the solutions are intuitive and tailor-made to the users' needs. In Duckwise Preely is used on everything from quick-and-dirty tests on colleagues to heavy testing of complicated flows with remote audiences.
What is the role of user research in the design process at Duckwise?
Conducting user research is a fundamental part of the design process at Duckwise. We believe that solutions rooted in user needs are essential for a succesful digital product. Initially, we use research to clarify the viewpoint of the users. The purpose is to secure a strong understanding of their needs, behaviors, experiences, motivations, and challenges. In practice, we leverage several user research methods such as interviews, workshops, classic think-aloud tests, and remote user tests. From our initial user-research, best practices, assumptions, and our past experiences we create prototypes that we can test on the users. This part of the process is mainly about confirming og debunking our assumptions and in the end validating the prototype. The validation ensures that we are on the right track both when it comes to the users' and the clients' expectations. The user-centric approach is our north star when it comes to our solutions. We always emphasise to our clients that quality UX design is grounded in solid user research.
How is Preely part of facilitating user-research at Duckwise?
As designers, we always develop assumptions throughout the entire design process. We use Preely to evaluate and test these assumptions. In the early stages of the design process, we test wireframes and as the project develops we test high fidelity prototypes. The quicker we test our assumptions the better we can refine the solution to best suit the users.
We use Preely both for facilitated and remote user testing. The platform makes it easy and effective to acquire a large amount of quantitative feedback, which creates a solid data-based foundation for our design decisions. The data we collect from testing with Preely is also used in the way we communicate with different stakeholders. Having concrete and quantitative data makes validation and argumentation of our design choices stronger. When we can show the client that 90% of the users were able to find the correct button in the first try, we have validated that the design is intuitive.
We are also using Preely to gain fast and simple feedback from our colleagues at Duckwise. Since we are located at three different offices, it's an easy way to conduct a high-speed test with peers.
What are the main benefits of testing with Preely?
Preely has a range of features that you'll only find on their platform. One of the best things is that you can simulate experiences almost 1:1. In order for us to uncover the user's experience, it is important that the prototype reflects the actual experience. It's small things like interactive input fields that makes the difference from other tools.
Some of the other benefits of Preely are:
Flexibility in what aspects of a product we can test. We can test everything from simple buttons to complicated flows.
Because we can test remotely, we are able to test on foreign audiences, which otherwise would have been costly.
The results are quantifiable and easily communicable.
Easy creation and managing of different user panels.
The tool is highly intuitive.
It is a fast way to gather feedback from many users in one place.
The analytics we get from testing with Preely are very valuable for our work. This does not only apply for remote user testing but also in facilitated user tests. In a facilitated test, we use the analytics, especially heat- and click maps, to eliminate say/do conflicts. The data provides us with unique insights into i.e. what the users actually noticed at first, and thus how effective our designs are. Also, Preely has helped us to introduce a more "rapid testing culture". We do not hesitate to create a Preely test to become more clarified. Assumptions are being tested more frequently, driving the design process forward.
With Preely we have eliminated the clients' barrier for user testing. Sometimes, clients find user tests to be a lengthy and expensive process that only provides superficial results, which are hard to implement. This view often applies to facilitated user tests, and the time and amount of work that goes into testing on five users. However, with Preely we can test on several users remotely and rapid in a manageable way.
Meet Kristian Schnedler Jørgensen, UX & Digital Designer at Duckwise
I'm Kristian Schnedler Jørgensen, 30 years old, and I work at Duckwise as a UX & Digital Designer. The mix of UX and digital design means that I work with user experience techniques and create the visual aspects of projects.
I have always been a very creative individual, but at the same time I have always had a somewhat nerdy interest in technical stuff. That's why I chose to study digital design when I started at the university in 2009. The study gave me the chance to have a creative approach to an IT education.
After a few years of studying, I got my first student job as a graphic designer – a job which also covered traditional UX work. The combination of UX and UI was a great fit for me, and I am pleased to work as a hybrid in Duckwise today.